Distilleries in Pigeon Forge are growing in popularity. Stop by one of these top attractions for a tasting on your next visit to the Smoky Mountains. While Tennessee moonshine has always been a large part of Appalachian culture, distilleries in Pigeon Forge & Gatlinburg are not limited to the production of moonshine. Here you'll find all sorts of hand crafted rye whiskey, bourbon, vodka, gin, and rum.
---
Junction 35 Spirits
2655 Teaster Ln Suite 280, Pigeon Forge, TN 37863
Straight from the hills of The Smoky Mountains, Junction 35 Spirits is bringing a long time family tradition to the public. Our rich local history of making and running spirits diverging with our Master Distiller has brought together a taste like no other. Just like th… [+ More]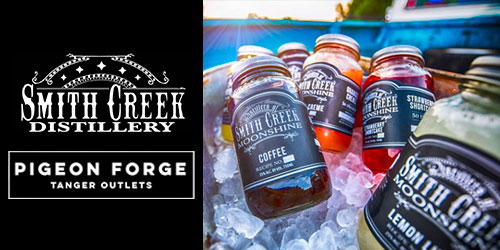 Smith Creek Moonshine
1645 Parkway #1090, Sevierville, TN 37862
Moonshine, White Lightnin', Hillbilly Pop, Sugar Whiskey, Mule Kick, Ruckus Juice. Whatever you call it, Smith Creek Moonshine serves it… and it's good!
Smith Creek Moonshine is a moonshine-tasting destination located in Tanger Outlets. Come enjoy our moonshine tasti… [+ More]
King's Family Distillery
1440 Upper Middle Creek Rd, Suite 201, Sevierville, TN 37876
King's Family Distillery, nestled in the foothills of the Great Smoky Mountains just outside Pigeon Forge, is the area's premier distillery and features a diverse lineup of award-winning whiskeys, vodkas, and liqueurs. Husband and wife team Justin and Cara King re… [+ More]
---
Distilleries in Pigeon Forge
Popular distilleries in Pigeon Forge include the internationally famous Ole Smoky Moonshine, located at The Island between the Great Smoky Mountain Wheel and dancing fountains. This location (also known as The Barn) offers tastings of all their signature flavors of moonshine. Other Smoky Mountain distilleries include Old Forge Distillery, Doc Collier Moonshine, Sugarlands Distilling Co., Tennessee Legend Distillery, and Tennessee Shine Company.
What Is A Distillery?
A distillery is a company that manufactures liquor through the process of distillation, or separating components of a liquid mixture through boiling and condensation. Examples of distilled spirits include whiskey, gin, vodka, and moonshine. The process of distillation is centuries old, with its origins going all the way back to ancient Mesopotamia and even Rome and Egypt. The process of distilling water has been used since at least century 200.